RESOURCES FOR YOUR PATIENTS
A collection of MAVYRET resources to help support your patients

MAVYRET downloadable patient library
Below is a list of downloads and links that can help facilitate a conversation between you and your patients about HCV and the importance of treatment.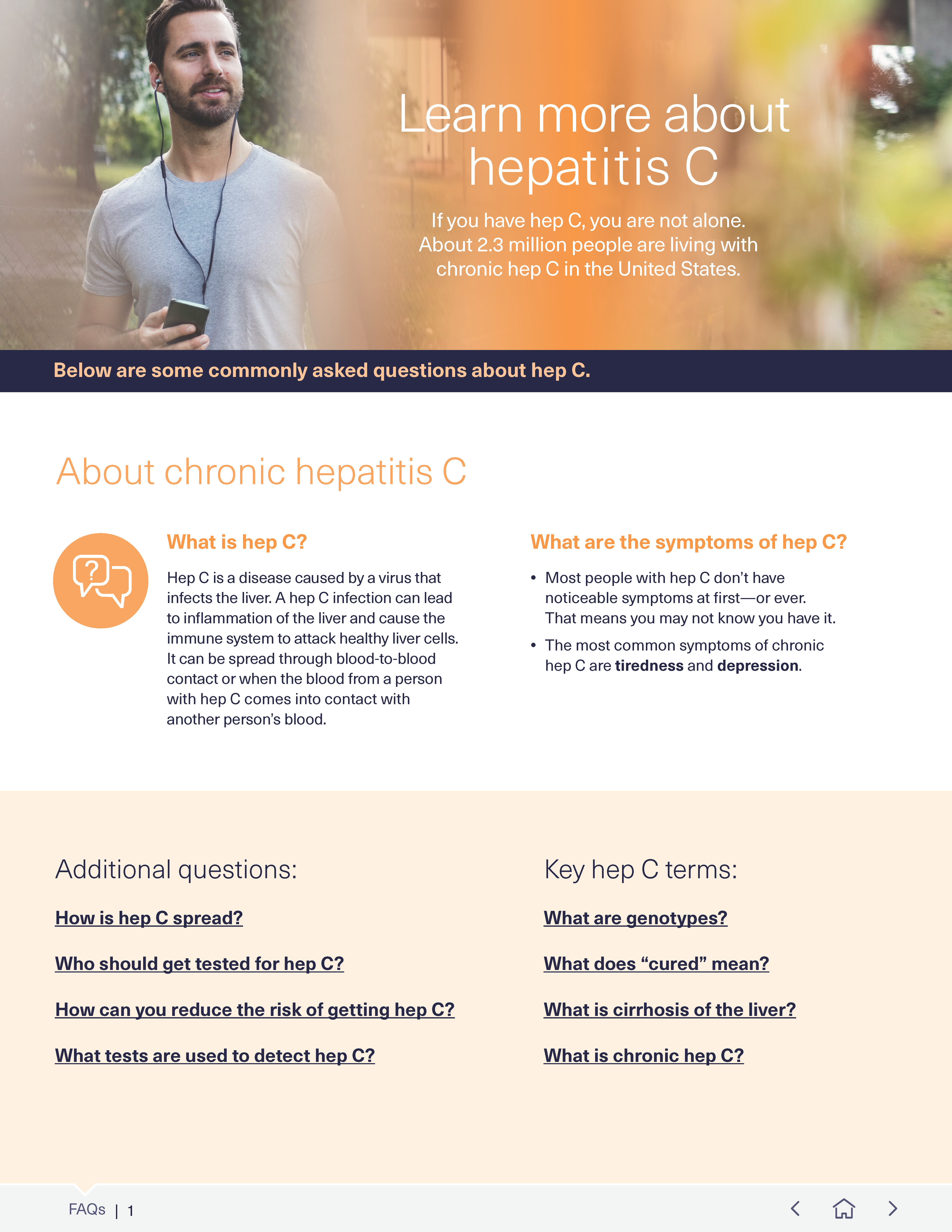 Hep C FAQs
Answers to some of the most commonly asked questions regarding HCV and treatment.

Patient starter kit
Help for getting patients started on MAVYRET, including information about dosing, safety, and efficacy.
By visiting MAVYRET.com, patients can access additional support and resources to understand and manage their HCV infection
Click the links below to see resources for your patients.
INDICATION1
MAVYRET is indicated for the treatment of adult and pediatric patients 3 years and older with chronic hepatitis C virus (HCV) genotype 1, 2, 3, 4, 5, or 6 infection without cirrhosis or with compensated cirrhosis (Child-Pugh A). MAVYRET is indicated for the treatment of adult and pediatric patients 3 years and older with HCV genotype 1 infection, who previously have been treated with a regimen containing an HCV NS5A inhibitor or an NS3/4A protease inhibitor (PI), but not both.
IMPORTANT SAFETY INFORMATION1
WARNING: RISK OF HEPATITIS B VIRUS REACTIVATION IN PATIENTS COINFECTED WITH HCV AND HBV: Test all patients for evidence of current or prior hepatitis B virus (HBV) infection before initiating treatment with MAVYRET. HBV reactivation has been reported in HCV/HBV coinfected patients who were undergoing or had completed treatment with HCV direct-acting antivirals and were not receiving HBV antiviral therapy. Some cases have resulted in fulminant hepatitis, hepatic failure, and death. Monitor HCV/HBV coinfected patients for hepatitis flare or HBV reactivation during HCV treatment and post-treatment follow-up. Initiate appropriate patient management for HBV infection as clinically indicated.
CONTRAINDICATIONS
MAVYRET is contraindicated in patients with moderate or severe hepatic impairment (Child-Pugh B or C) or those with any history of prior hepatic decompensation.
MAVYRET is contraindicated with atazanavir or rifampin.
WARNINGS AND PRECAUTIONS
Risk of Hepatic Decompensation/Failure in Patients with Evidence of Advanced Liver Disease


Postmarketing cases of hepatic decompensation/failure, some fatal, have been reported in patients treated with HCV NS3/4A protease inhibitor-containing regimens, including MAVYRET. The median time to onset for MAVYRET was 27 days. The majority had moderate or severe hepatic impairment prior to initiating therapy, including some with compensated cirrhosis at baseline but with a prior decompensation event. Rare cases were reported in patients without cirrhosis or with compensated cirrhosis; many of these patients had evidence of portal hypertension. In patients with compensated cirrhosis or evidence of advanced liver disease, perform hepatic laboratory testing as clinically indicated; and monitor for signs and symptoms of hepatic decompensation such as the presence of jaundice, ascites, hepatic encephalopathy, and variceal hemorrhage. Discontinue MAVYRET in patients who develop evidence of hepatic decompensation/failure.
Risk of Reduced Therapeutic Effect Due to Concomitant Use of MAVYRET with Certain Drugs
Carbamazepine, efavirenz, and St. John's Wort may significantly decrease plasma concentrations of glecaprevir and pibrentasvir, leading to reduced therapeutic effect of MAVYRET. The use of these agents with MAVYRET is not recommended.
ADVERSE REACTIONS
Most common adverse reactions observed with MAVYRET:
>10% of subjects: headache and fatigue
US-MAVY-190705