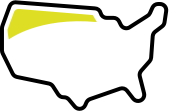 Mavyret access & copay support
MAVYRET has preferred formulary status on the majority of2:
State Medicaid Plans


Patients on Medicaid can have out-of-pocket costs of $20 or less depending on state plan.3

Medicare Part D plans2



National Commercial Health Plans


Most patients with commercial insurance will pay as little as $5 per month with their MAVYRET copay card.*

Coverage requirements and benefit designs vary by payer and may change over time. Please consult with payers directly for the most current reimbursement policies.
Preferred means the product is placed on the plan's preferred formulary. Non-preferred products require a higher out-of-pocket cost or step edit, or are placed on a higher tier.
*Terms and Conditions apply.
Find MAVYRET access by state with our formulary lookup tool2
See which plans in your area include MAVYRET on their preferred drug formulary†
Save on MAVYRET
Cost should not be a barrier to treatment.
MOST MAVYRET PATIENTS PAY AS LITTLE AS $5 A MONTH5
INDICATION1
MAVYRET is indicated for the treatment of adult and pediatric patients 3 years and older with chronic hepatitis C virus (HCV) genotype 1, 2, 3, 4, 5, or 6 infection without cirrhosis or with compensated cirrhosis (Child-Pugh A). MAVYRET is indicated for the treatment of adult and pediatric patients 3 years and older with HCV genotype 1 infection, who previously have been treated with a regimen containing an HCV NS5A inhibitor or an NS3/4A protease inhibitor (PI), but not both.
IMPORTANT SAFETY INFORMATION1
WARNING: RISK OF HEPATITIS B VIRUS REACTIVATION IN PATIENTS COINFECTED WITH HCV AND HBV: Test all patients for evidence of current or prior hepatitis B virus (HBV) infection before initiating treatment with MAVYRET. HBV reactivation has been reported in HCV/HBV coinfected patients who were undergoing or had completed treatment with HCV direct-acting antivirals and were not receiving HBV antiviral therapy. Some cases have resulted in fulminant hepatitis, hepatic failure, and death. Monitor HCV/HBV coinfected patients for hepatitis flare or HBV reactivation during HCV treatment and post-treatment follow-up. Initiate appropriate patient management for HBV infection as clinically indicated.
CONTRAINDICATIONS
MAVYRET is contraindicated in patients with moderate or severe hepatic impairment (Child-Pugh B or C) or those with any history of prior hepatic decompensation.
MAVYRET is contraindicated with atazanavir or rifampin.
WARNINGS AND PRECAUTIONS
Risk of Hepatic Decompensation/Failure in Patients with Evidence of Advanced Liver Disease


Postmarketing cases of hepatic decompensation/failure, some fatal, have been reported in patients treated with HCV NS3/4A protease inhibitor-containing regimens, including MAVYRET. The median time to onset for MAVYRET was 27 days. The majority had moderate or severe hepatic impairment prior to initiating therapy, including some with compensated cirrhosis at baseline but with a prior decompensation event. Rare cases were reported in patients without cirrhosis or with compensated cirrhosis; many of these patients had evidence of portal hypertension. In patients with compensated cirrhosis or evidence of advanced liver disease, perform hepatic laboratory testing as clinically indicated; and monitor for signs and symptoms of hepatic decompensation such as the presence of jaundice, ascites, hepatic encephalopathy, and variceal hemorrhage. Discontinue MAVYRET in patients who develop evidence of hepatic decompensation/failure.
Risk of Reduced Therapeutic Effect Due to Concomitant Use of MAVYRET with Certain Drugs
Carbamazepine, efavirenz, and St. John's Wort may significantly decrease plasma concentrations of glecaprevir and pibrentasvir, leading to reduced therapeutic effect of MAVYRET. The use of these agents with MAVYRET is not recommended.
ADVERSE REACTIONS
Most common adverse reactions observed with MAVYRET:
>10% of subjects: headache and fatigue
US-MAVY-190705