In this page special characters are used as Footnotes reference and respective footnotes are present at the end of the main landmark
"Wondering about
the cost of MAVYRET?"
– James, CURED* with MAVYRET
– James, CURED* with MAVYRET
This page will help you figure out how much you could pay for MAVYRET. How much you pay may depend on if you're covered by insurance and the level of coverage your insurance provides.
This may feel overwhelming, but even if you don't have insurance, AbbVie may be able to help you with the cost of MAVYRET.
MAVYRET LIST PRICE
The list price, also known as the Wholesale Acquisition Cost (WAC), for one month of MAVYRET, is $13,200.00 as of January 2023. The WAC may not reflect the price paid by patients.
to find out how much MAVYRET will cost for you.
If you have:
You could pay:
Medicaid

$20.00 or less per month, depending on state plan

Commercial Insurance (usually provided by employer)
(Blue Cross Blue Shield, Aetna, etc)

As little as $5 a month with MAVYRET Savings Card

Medicare: Part D

$660.00-3,204.00 per month, depending on coverage phase


Monthly out-of-pocket cost for MAVYRET may vary depending on patient's other medication costs.

Most Medicare patients have Standard Part D prescription coverage, which has different costs depending on deductibles and coverage gaps. An Insurance Specialist can help you understand what these costs mean to you, by calling 1-877-628-9738.

Medicare: Low-Income
Subsidy (LIS)

$10.35 per month starting January 1, 2023

Uninsured or having difficulty paying for your medication

myAbbVie Assist provides AbbVie medicines to qualifying patients. Visit AbbVie.com/myAbbVieAssist or call 1-800-222-6885 to learn more.

Other Insurance (VA,
DoD, TRICARE, others)

Because coverage varies by plan, call 1-877-628-9738 to speak to an Insurance Specialist to find out how much MAVYRET will cost you.
MAVYRET
SAVINGS PROGRAM
People with commercial insurance may pay as little as $5 per month with the MAVYRET Savings Card.†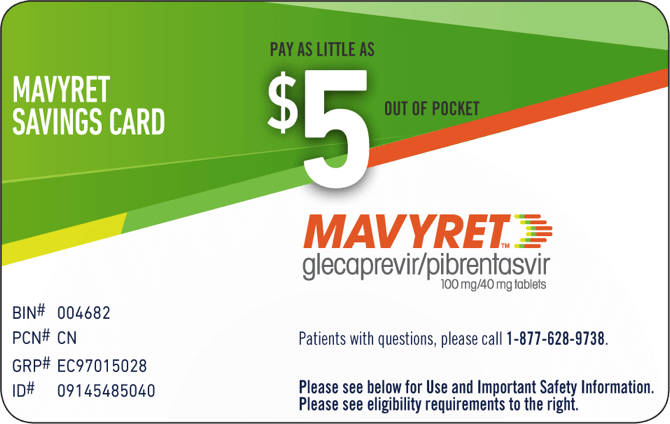 Download this MAVYRET Savings Card† and bring it to your pharmacist to find out if you're eligible.
myAbbVie Assist
If you are having difficulty paying for your medicine, myAbbVie Assist may be able to help.
myAbbVie Assist, our patient assistance program, provides AbbVie medicine to qualifying patients. It is intended for people that live in the United States, have limited or no health insurance coverage and demonstrate qualifying financial need.
Meet more people CURED* with MAVYRET
Get in touch with MAVYRET Patient Support